June 4, 2021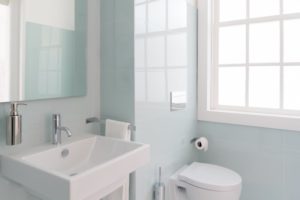 The walls feel like they're closing in around you, and you feel you barely have room to breathe. No, you're not in a nightmare—you're in a small room in your house. Being in this room may not actually be this dramatic, but small spaces can be unpleasant if not handled properly. From tiny half bathrooms to small guest rooms, you may not have the option of doing serious home renovations. Here are some tips for expanding small rooms without changing the square footage.
Get Rid of Clutter
With a room that has limited space, you have to be picky about the furniture and other items that go in it. Otherwise, you can feel overwhelmed and crowded. Do you have clutter on the bathroom sink? Put it in the cabinet. Do you have a tiny kitchen? Put away as many appliances as possible to keep the counter clear. Are there a lot of knick-knacks in the room? Put only a key few on display. Minimizing visible items will give the illusion that there is plenty of space in the small room.
Include Houseplants
If you don't want to feel claustrophobic in a small room, consider putting a plant or two in there. Not only does the greenery add a different texture, but it also can make the space feel more open. You can even select plants that purify the air, helping the room literally feel more airy!
Light It Up
In a small space that's dark, you can feel uncomfortable without really knowing why. Psychologically, darkness is generally associated with oppressive feelings. Adding light, especially natural light, can go a long way to make the room feel more open. If your lighting source is limited, you can create the illusion of light by using a large mirror in the space. This is particularly effective in small bathrooms.
Choose Light Paint Colors
Speaking of light and dark, one of the easiest ways to trick the eye into seeing a larger space is to paint the walls a lighter color. Although you should stay away from pure white, a light gray can give a guest bedroom a more spacious, yet relaxing vibe. For the bathroom, a pale blue can help the smaller area feel more expansive. Regardless of your color choice, having a painter come in and handle the work ensures a flawless finish and a comfortable room.
In the end, you may not get to alter the actual size of the room, but you can make the most of it. By following these tips, you can transform your small room so it appears larger and more comfortable for you and your guests.
About Platinum Painting of Plano
After serving more than 10,000 homeowners, Platinum Painting knows how to deliver! Since 2008, we've been helping North Texas homeowners realize their design dreams through beautiful, professional painting, no matter how large or small the project is. For small rooms, we can make color recommendations and let you know what trends are popular or classic. If you would like to have a free in-person estimate, you can reach out to our Customer Care team by clicking here.
Comments Off

on 4 Ways to Make Small Rooms Feel Larger
No Comments
No comments yet.
RSS feed for comments on this post.
Sorry, the comment form is closed at this time.