Interior Painting – Plano, TX
Love Your Living Spaces
Do you know that you spend a lot of time in your house? Whether you're working in the office or sitting down at the kitchen table for a fun family dinner, the inside of your home can and should reflect your desired mood, personality, and preferences. However, if you have chipped or worn-down paint, it could send the wrong message about you and your family. Some new colors for the walls or other surfaces could be just the thing to make your house feel homey. At Platinum Painting, we want to help you achieve your goals for interio painting in Plano, TX with our top-brand products, unmatched experience, and precise attention to detail. To get a free quote and get started on your interior painting project, contact our Plano, TX location today.
Why Choose Us:
Based in Plano
Insured
Satisfaction Guarantee
Serving All of North Texas
What Can We Paint?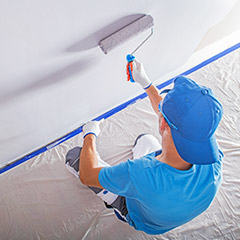 At Platinum Painting, our painting professionals have worked in all kinds of interior spaces, including small condos and sprawling three-floor houses. If it can be painted, we'll complete the project to perfection! We can handle these interior painting services:
Walls (of any height)
Ceilings (of any height)
Doors & Windows
French Doors & Windows
Baseboards
Crown Moldings & Chair Rail Moldings
Mantels
Bookshelves
Wood Shelves & Cabinets
Wainscoting & Paneling
And so much more!
The Steps of Interior Painting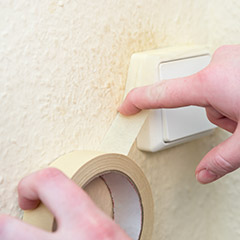 Initial Set Up – Before we start with the first paint can, we take time to remove all drapery and furniture from the room that we'll be working in. Then, we look closely at the project surfaces, sanding and caulking particularly along the ceiling crowns, doorjambs, and baseboards where necessary. However, before we come to your house, we ask that the homeowners prepare a little bit in advance by storing any beloved paintings and knickknacks and securing their pets safely in another room. To learn more about this process, please view our Getting Started page.
Painting – After we've primed areas that require repair, we will apply your chosen Sherwin-Williams paint(s) onto the interior surfaces, leaving beautifully uniform results that you'll love.
Cleaning – When we're finished painting, we clean up our work spaces! We sweep debris, throw away trash, vacuum carpets, and move your furniture and décor back into place. You won't have to worry about anything!
Final Inspection – Before our team leaves your home, we'll have you inspect all of the painted spaces and get your feedback and your impressions of our work. If you notice something amiss or want us to make a tweak or two in a certain area, this is the time to make sure that everything is completed to your satisfaction.
Dedicated Color Consultation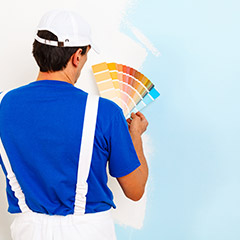 When faced with the color options available, many homeowners feel overwhelmed when they start planning an interior painting project. It can be challenging to pick colors that will create the "feel" you want and best meet your design goals. And then, you have to decide whether you want just one color, contrasting shades, or something even more dynamic. Our Platinum Painting team doesn't leave you to struggle with these decisions on your own. After all, we're not happy until you absolutely love the results, which starts with a confident design plan. That's why we provide you with a color consultation. Simply put, a team member will come directly to your house and help you determine the right colors for you. In addition, you can take advantage of the Paint Color Visualizer from Sherwin-Williams to better visualize how your home would look in different shades.
Interior Painting FAQs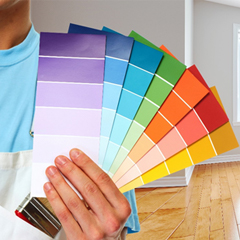 When you invite a service company into your home, you're putting a great deal of trust in them—trust that they'll treat you and your possessions with respect, trust that they'll get the job done correctly. At Platinum Painting, we take these responsibilities seriously, which is why we want to answer as many of your questions as possible before we even get started. That way, you know right from the beginning that you've chosen the right painting service. Please take a look at these, but feel free to contact us if you have others not discussed here.
What do you do to protect my belongings?
We take several measures to make sure your possessions remain undamaged throughout the project. Before we reach for a paint brush, we clear the room of its furniture and drapery, but we leave any fragile objects for you to handle yourself. Once we're done, we'll vacuum and clean up any mess, if necessary, and we'll move everything back to where we found it. The only difference you'll see in the room is a fresh, beautiful coat of paint on the walls!
How long does the process take?
From start to finish, we strive to make the process as efficient and cost-saving as possible. We are typically able to schedule your estimate within two to four days of your phone call. Then, after receiving your estimate, you have the option to schedule the project as early as two weeks later. During this time, we prepare necessary supplies so that we don't waste any time in your house. The project's timeline will vary depending on the number and size of the rooms in the project, but no matter the scope of the project, we'll work productively.
Can you paint really high ceilings?
Absolutely! Over the years, we've painted more than 10,000 homes throughout North Texas with varying size and scope in the projects. Our experienced estimators can look at a space and provide a fair estimate for the work. When we come to paint your home, we'll be prepared for what the project needs and attend to every small detail. Even the most complicated issues won't stand in our way! Before we're finished, we'll have you inspect the rooms we paint and get your final approval, ensuring that you love the results.
Do you help me pick the colors?
We certainly can! A quick visit to any paint store will show you just how many color options you have available to you. Choosing the right shades can easily become overwhelming. Because we don't want you to have buyer's remorse for your painting project, we provide a complimentary, in-person color consultation. During this appointment, one of our experts will help you narrow your options down and help you feel confident in your choice. As an added bonus, we get our paint through Sherwin Williams, and they have the Paint Color Visualizer, a tool that allows you to get a glimpse of what the paint will look like in your space.