Wallpaper Removal – Plano, TX
Get Rid of Wrinkled Wallpaper Without Damage!
Although wallpaper can be a fun way to add character to a space, but the designs on wallpaper can quickly become outdated and show their age. Platinum Painting of Plano can give you a blank slate or maybe a fresh coat of paint, making the room feel more modern. Because our team stays on top of industry advancement, it's never been easier and faster for us to get rid of wallpaper. Please contact us today to get started with wallpaper removal in Plano, TX.
Why Choose Us:
Based in Plano
Insured
Satisfaction Guarantee
Serving All of North Texas
What Should You Think About When Removing Wallpaper?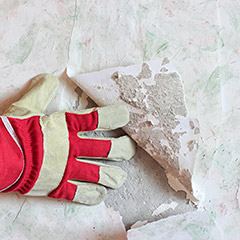 Removing wallpaper may seem like a simple DIY project at first glance, but the process is actually quite delicate. If you don't do it properly, you risk causing severe damage to your walls. At Platinum Painting, our seasoned team considers every important factor, including the following, to determine how we approach each removal:
How long has the wallpaper been on the wall? The age of the wallpaper can impact the adhesive and how much wear it has endured.
Before the wallpaper was applied, was the wall properly primed and sealed? Without being primed and sealed, the paper won't likely come off easily or cleanly.
What kind of wallpaper is it? Wallpapers can be made from various materials. For instance, some are fabric, and others have a vinyl coating. The type can point to a different removal method.
Regardless of the wallpaper situation you have, we have effective steamers, safe solvents, and other professional tools that enable us to get the job done right the first time.
The Benefits of Wallpaper Removal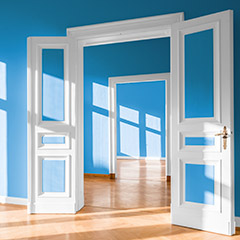 The greatest advantage to throwing away outdated wallpaper is that you will no longer have to look at a pattern you don't like anymore! Getting rid of tired wallpaper is a simple way to update the space and give you a blank canvas for your new home design ideas.
Over time, wallpaper can also develop bubbles or start to peel away from the wall. In addition, it can even change color to a more worn yellow shade. If you notice any of these problems, we invite you to contact us at Platinum Painting, and we will start updating and improving the look of your walls.
Wallpaper Removal Steps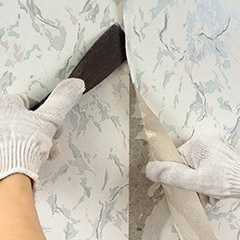 We will apply non-toxic solvents to weaken the adhesive.
Then, we will gently and carefully remove the wallpaper in order to avoid damaging the walls. We'll also clean up any debris left behind on the floor, so you don't have to worry about a mess.
After the wallpaper has been removed, we'll wash away any residue from the walls, and we'll fix any remaining imperfections, with some sanding and a skim coat to make the surface smooth. If you want to have our team paint the newly exposed walls, we'll then apply primer, followed by the beautiful color you chose!
Wallpaper Removal FAQs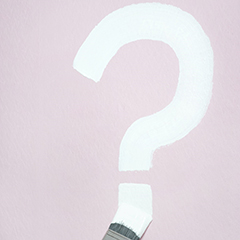 At Platinum Painting, we know that bringing a service company into your home requires a certain level of trust. From the start, you should feel completely confident that you'll love the results. We understand because we're homeowners too! Below, we've addressed some of the most frequently asked questions about wallpaper removal and hope to put any concerns to rest. However, if you have others that aren't discussed here, feel free to contact us!
Can you paint over my wallpaper?
If that's what you'd like us to do, then yes. However, we typically encourage removal over painting on top of wallpaper. The second you apply moisture (e.g., wet paint) to it, little bubbles can form underneath, and edges can start to peel away. Plus, you can easily tell when wallpaper has been covered in paint due to the texture of the paint finish. In general, paint on top of wallpaper is negative feature for potential buyers because removing the painted wallpaper will require a lot of work and patience. If you're looking to give your walls a new design, start over by taking the wallpaper down properly before painting.
Will my walls be ready to paint once the wallpaper is removed?
The process is slight more complex than simply peeling the paper from the wall. Its adhesive often leaves little bits of residue and even some damage behind. Using specialized tools and solutions, our team removes every trace of the wallpaper while keeping the damage as minimal as possible. We then repair the sheet rock and retexture the walls so they're like new! We finish by priming the walls; at that point, they are ready to paint and start a fresh, new aesthetic.
How long does wallpaper removal take?
Our team works hard to remove your wallpaper cleanly and prepare your walls for a fresh start. Removing wallpaper properly requires patience, and the timeline for the project can vary based on several factors. The type of wallpaper, the length of time it has been in place, and whether the walls were treated correctly before wallpaper was applied all impact how long it will take for removal. On average, it typically takes us about two days to remove wallpaper and repaint. Keep in mind that our estimator should be able to provide a pretty accurate timeline for your specific situation.
What prep do I need to do before you start?
As the homeowner, you have only a little prep work to do before our team arrives. Just take pictures or artwork down from the walls. Then, we can get straight to work. As we remove the wallpaper and its residue, we'll be sure to keep damage to a minimum and repair when necessary. Before our team leaves your home, we will pick up all debris and vacuum the area, so you don't have to worry about the cleanup afterward.