Exterior Painting – Plano, TX
Give Your Home A Beautiful Makeover
Painting the exterior surfaces of your house can be challenging and stressful if you try to do it all on your own. You need to work around delicate windows, stand on frighteningly tall ladders, and deal with the elements. Plus, you may have to use countless weekends to complete the project instead of taking it easy after a hard work week. Let Platinum Painting of Plano take this task off your shoulders and allow you to simply enjoy a gorgeous-looking house.
Before we start working, a team member will come to your house to look specifically at the exterior surfaces of your home. We'll note all its unique features and any additional needs, and we'll provide a comprehensive, detailed, and customized proposal of the project that will include all cost information. This estimate is completely free, whether you choose us or not. We proudly offer a unique blend of outstanding service and affordable pricing, and we go above and beyond to make the process simple for our clients.
Are you itching to make your house look better? We can make your design dreams come true! Contact us today to learn more and to schedule your free estimate for exterior painting in Plano, TX.
Why Choose Us:
Based in Plano
Insured
Satisfaction Guarantee
Serving All of North Texas
What Can We Paint?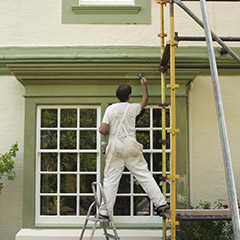 Can Platinum Painting can handle your house's little exterior quirks? You don't have to worry! Since opening in 2008, our professional team has seen and painted it all, and we have a ton of painting strategies for all types of materials, architectural designs, fixtures, and more. We can paint the following outside surfaces:
Brick
Wood
Stucco
Fascia/Eavestrough
Vinyl/Aluminum
Patios
Decks
Railings
Fence Staining
Carpentry
And much more!
No Detail Is Too Little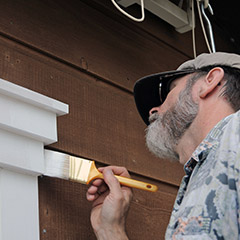 In order to choose the right colors and painting materials, we need to consider conditions that are unique to exteriors. For example, the weather can have a significant impact on the wear-and-tear of exterior paint, and areas that deal with moisture will require extra special care. In addition, if you have trees or shrubbery with different colors in your yard, you may also wish to make sure that the shades you choose will complement these elements for a more cohesive appearance. Did you know that the right paint job can even hide architectural flaws by drawing the eye elsewhere? At Platinum Painting, our industry professionals think of everything so you don't have to!
The Steps of Exterior Painting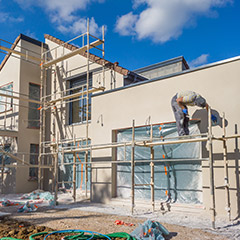 Initial Set Up – No matter what exterior surfaces we paint, we start with a thorough power washing to remove debris like mildew, sand, dirt, and more. Our team will even take time to hand scrape these surfaces to remove loose, chipping paint. Before our team arrives, we ask homeowners to remove any outside plants, art fixtures, and other important objects from the workspace. Also, the sprinklers need to be turned off! To learn more about you need to do to prepare, please take a look at our Getting Started page.
Priming – To make the paint job last longer, we always apply a high-quality primer on the exterior surfaces. That way, it can better withstand wear and tear.
Painting – We then apply the shade and level of gloss of your choice, making sure everything has an even coating. Not only will the high-quality Sherwin Williams exterior paints look amazing, but they will also protect your home from the elements for years to come!
Clean-Up – With us, you don't have to worry about messy exterior spaces. Our team cleans up every day and at the end of the project. We will put materials away, clear trash, and pick up paint chips too. Other than a beautiful paint job, you shouldn't be able to tell that our team was ever there.
Final Inspection – After we're done, we'll have you inspect your brand-new exterior to ensure that you're completely satisfied with the results. If you notice something that doesn't meet your standards, let us know at this time! We want to blow you away with the quality of our work before we leave.
Dedicated Color Consultation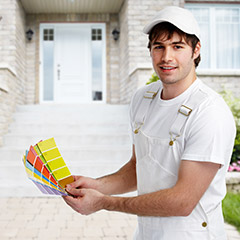 Choosing the right color(s) for your exteriors is definitely important. After all, the colors or stains you pick should last for many years. However, if you're overwhelmed with this decision, we can help you negotiate and weigh your options. Our team at Platinum Painting provides a dedicated color consultation, guiding you to a design plan that you feel confident about before we even open the first paint can. You can also explore color options and see how the final product will look with the Paint Color Visualizer from Sherwin-Williams.
Exterior Painting FAQs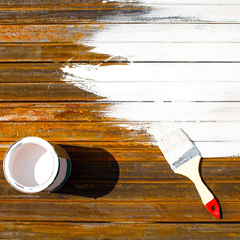 Whether you're putting your house on the market or you're just having guests visit, the outside of your home can make a powerful first impression. That's where our experience in exterior painting can help your home stand out in the best way. If you have questions about this service, take a look at our responses below to some of the most common ones we get. If you have others not mentioned here, you're more than welcome to contact our team and ask!
Is it ever too hot or cold to paint? What is the best season to paint outside?
Texas has some crazy, unpredictable weather, no matter the season. Fortunately, we've learned how to deal with it and provide the best possible outcome. For example, in the summer months, we tend to perform our work earlier in the day to avoid the 100+ degree heat in the afternoon. There may be times when we reschedule exterior painting so that we can deliver the high-quality results you deserve. Two such times are when the temperature drops below 35 degrees or when it's raining. We try to work around the Texas weather to give you an exterior that you'll be proud to show off.
Should I replace my gutters when I paint?
Absolutely! Your gutters are critical in preserving your home and extending the lifespan of the exterior paint. When functioning properly, gutters diverted rainwater away from the foundation and walls of the house. By replacing your gutters while painting the exterior, we can take the opportunity to prime and paint the fascia, which is particularly vulnerable to water damage. Our sister company, Platinum Gutters, would be happy to help you pick a gutter system to make the paint last even longer than expected! By coordinating these improvements, you can have them completed efficiently and love the results for years to come.
Can you paint metal fences or gates?
Yes, we do! With over 10 years of industry experience and 10,000 homes under our belts, we know how to approach any kind of surface with the best strategies and materials to yield the impressive results every time. Basically, you name it—we can paint it! Our experienced team stays abreast of new materials and techniques in the industry, which means that you'll always get a paint job you love.
What prep work do I need to do before you start?
We would like you to do a few things before we get to your house so that we can get right to power washing, priming, and then painting. Please clean up your pets' messes and keep them away from the project area. Also, make sure your sprinkler system is turned off while we work. Water can affect the paint job, and our team doesn't need to be doused with water! Finally, if you have wall hangings or plants in the area, be sure to remove them. With this preparation taken care of, we will be able to paint more effectively and get done in a timely manner!
Can you replace the wood before you paint?
We sure can! Your home's exterior wood surfaces can endure a lot from the crazy Texas weather. Over time, essential parts of your home's structure, such as the fascia, soffit, or HardiePlank lap siding, can become damaged and allow water and rot to penetrate into your home. The good news is that Platinum Painting can do more than just paint! Our team has the carpentry skills to replace these parts and protect your home again. Then, we can add primer and paint to shield these vulnerable areas from the elements.