Popcorn Removal – Plano, TX
Get Rid of Outdated Popcorn Ceilings
There was a point in time when the "popcorn" wall texture was very popular, but that is not the case today. If a room in your house has a popcorn ceiling or walls, it can show the age of the house, making it feel outdated and less comfortable. Most homeowners want to eliminate these surfaces, but doing so on your own can be difficult and even dangerous, especially if asbestos and lead are present. Our Platinum Painting team is proud to help clients from Plano and the surrounding DFW communities with this service! You can learn more about popcorn removal in Plano, TX and request your free quote by contacting us today.
Why Choose Us:
Based in Plano
Insured
Satisfaction Guarantee
Serving All of North Texas
The Benefits of Popcorn Removal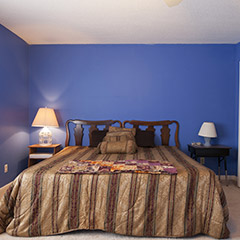 If you have popcorn ceilings or walls, the simplest way to update the look of your rooms is to finally remove this texture. Are you planning on putting your house on the market in the near future? You may want to address this tired design feature so that prospective buyers aren't deterred from your property.
In addition to looking strange, popcorn surfaces tend to accumulate grime and dust from the air, especially around ceiling fans, and cleaning these rough surfaces on the walls and ceilings is not easy. When you remove popcorn texture, you won't just improve your home's aesthetic value. You'll also make your home a healthier environment for your family's overall well-being!
Popcorn Removal Steps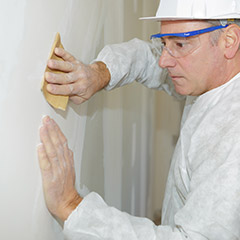 Before we get started, we will take out all light switches and fixtures from the room(s) as well as furniture. We will cover the floors and any remaining pieces of furniture.
We will use a powerful water gun to thoroughly soak the ceilings and walls. Then, with specialty tools, we will scrape off the popcorn texture in big chunks.
Once we reach the underlying layer, also called the substrate, we'll give the area a smoother finish by filling the area. If necessary, we can also prime or sand the surface.
After work is completed, our team will take time to clean up the room(s), vacuuming and removing all popcorn pieces. When you do the final inspection, the new, beautiful walls will be the only indication that we were there.
What Happens Next?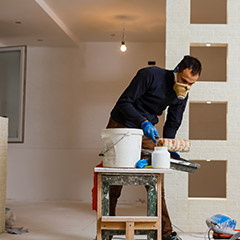 To help your newly updated walls look even better, Platinum Painting can help you explore your design options! Do you want new textures or a fresh coat of paint? We can provide advice and guide you to an improvement plan that you'll feel excited and confident about.
Popcorn Ceiling Removal FAQs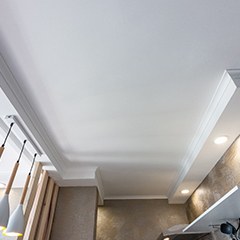 Popcorn ceilings were a popular trend… from the 1930s to the 90s. Today, this feature isn't exactly what would pop into your head while thinking about your dream home. To help refresh your house and bring it into the new decade, we provide popcorn ceiling removal. This is a specialized service that you may have more questions about, and fortunately, we've got the answers.
Why should I remove my popcorn ceilings?
The number one reason why people want to get rid of popcorn ceilings is because they're outdated. However, there are a variety of other motivations to invest in removing popcorn ceilings, including some of the following:
They're difficult to clean.
They could have asbestos if they've been installed before 1977.
They're difficult to repair.
They can bring down the value of your home in a buyer's eyes.
Although it seems like a small change, investing in popcorn ceiling removal in Plano can have massive impact on the overall feel of your home and offers several different benefits.
Can I paint my ceiling once it's smoothed?
Before you're able to paint a smooth ceiling, we'll need to work our magic. We'll begin by soaking the ceiling and going in with a scraper to carefully remove the bumps. Afterward, we'll float drywall to build them up and create smoothed-out texture. After we prime the ceiling, it'll be all ready to paint. If you have any questions about choosing a paint type or color, don't hesitate to consult with our team!
How long does it take to remove popcorn ceilings?
The size of your home can impact the time that it takes to complete the project. Usually, we're able to complete a small area in about two days. An entire home, depending on the number and size of each of the rooms, can take anywhere between three to four days. If you'd like for us to paint the ceilings afterward, that may add a little more time onto the project. To learn how long your specific project will take to complete, call our office to schedule a free in-home estimate today!
How should I prep before the team arrives to remove my popcorn ceiling?
Before we get to your home to get the job done, it's helpful if you remove any bedlinens, knickknacks, or anything that can catch pieces of the ceiling as we remove it. Once we arrive, we'll remove or cover all furniture in the room. However, if you're able to do this before we get there, that would be incredibly helpful! Removing popcorn ceiling is a messy process even though we do our best to keep the surrounding area as clean as possible. After everything's complete, our team will sweep and vacuum, but we do recommend having professional cleaners come in once we leave for a thorough cleaning. This is because removal often creates a lot of dust that can sneak into hard-to-reach crevices of your home. We also recommend staying in a hotel or family member's home while the project is being completed.