Commercial Painting – Plano, TX
Creating the Right Look for Your Business
No matter what kind of business you run, the way it's painted can make a difference. The right color can influence the way clients or customers feel when they visit, and it can help contribute to an overall positive work environment for employees. Every business has different needs, and our team is here to make sure yours are met. We'll be happy to send an estimator over to take a look at your space and give you a free quote; all you have to do is call Platinum Painting of Plano today.
Why Choose Us:
Plano-Based Office
Insured
Free Estimate
What We Paint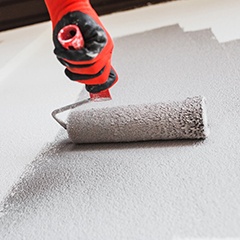 Do you have a small business, or do you have several buildings that need to be painted? We can handle all kinds of commercial projects, and you can rest assured there will be a knowledgeable team guiding the process. The kinds of commercial painting we offer include but are not limited to:
Hotels
Shopping centers
Strip malls
Religious buildings
Offices
Apartments
Regardless of what kind of painting you need, you can count on us to provide beautiful results.
How Our Painting Process Works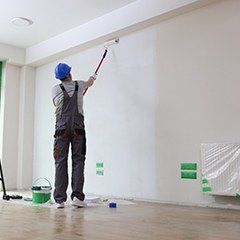 We always begin by sending an estimator to the site to take a look at the space in question. They'll determine the scope of the project and take whatever measurements are necessary before giving you an estimate that you can rely on. If you choose to move forward, we'll start working on the schedule for the painting process, which usually involves the following steps:
Step 1: Project Setup: To avoid getting paint on anything that isn't meant to be painted, we will cover or move furniture as needed, and any décor on the walls in question will be temporarily removed. We advise you to store anything particularly valuable before the process begins. Then, to make sure the walls are ready to paint, we may do some caulking, sanding, and/or cleaning.
Step 2: Painting: We normally use the paint brand Sherwin-Williams for our projects. If there's another kind of paint that you would rather use, don't hesitate to let us know.
Step 3: Cleanup: We always make sure to clean up after ourselves once we're done with a job. Any trash or debris produced over the course of the project will be taken away.
Step 4: Final Inspection: The last step is for our team to walk with you while you take a look at the work that has been done. Our goal is your full satisfaction; please let us know if there's any aspect of the project that leaves you feeling less than impressed so that we can address it as needed.
Color Consultation Available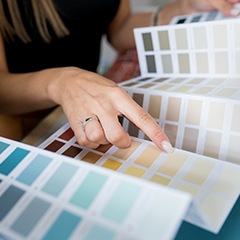 There's no shortage of options to choose from when it comes to painting, and it can be difficult to know which one is truly the right choice for you. One of our color consultants will be glad to assist you in reviewing the available colors and design trends. This way, you can be sure that you're making decisions that are ultimately beneficial to your business.