Cabinet Painting – Plano, TX
Dramatic Kitchen Makeovers on a Budget
As the heart of most homes, the kitchen is an important room to have a design that you love. But when it comes to making improvements here, many people become overwhelmed by renovations. Not only can kitchen projects take a long time, but they often cost more than expected, especially if you're considering replacing the cabinets. Our Platinum Painting team can share a little secret with you—painting the cabinets can give you the dramatic update you're looking for at a reasonable price tag. Contact our Plano location today to learn more about cabinet painting in Plano, TX or to request a free in-person quote.
Why Choose Us:
Based in Plano
Insured
Satisfaction Guarantee
Serving All of North Texas
What Do We Paint?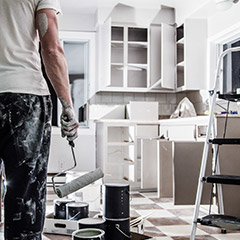 When we say that we paint cabinets, we mean more than just the typical spaces where your cups and plates are stored! No matter how unique or hard-to-reach it may be, we can work with cabinetry in any space and in any configuration, including:
Kitchen Cabinets
Bathroom Cabinets
Center Island
Garage Cabinets
And much more!
Regardless of which room your cabinets are in, we will leave you with impeccable, beautiful cabinets that stand the test of time.
The Cabinet Painting Process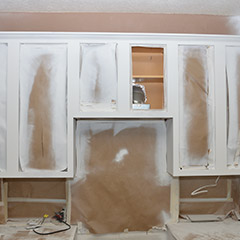 Our team at Platinum Painting uses a few painting methods for cabinets, so we can help you get the look you want at a cost that fits your budget. We typically recommend spray painting, because it creates a hard, smooth paint surface, making the cabinets look brand new. We also always go the extra mile to ensure a perfectly even and consistent finish without any drips or unsightly blemishes. With multiple layers of paint, you can rest assured that the paint will last for years to come and continue looking great.
If you are concerned about pricing, we can adjust according to your preferences with a "brush and roll" painting method, which means that we literally brush and roll paint onto the cabinet surfaces. Although the finish won't be as smooth as with spraying, your cabinets will still look more attractive than ever before.
Painting Cabinets or Resurfacing Cabinets?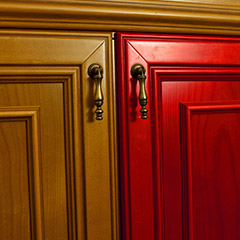 It can be difficult to choose between cabinet painting and cabinet resurfacing. Each has its own unique advantages, but the homeowner makes the final decision. We are happy to do whatever it takes to make your design vision a reality. In general, however, we recommend painting more often than resurfacing for the following reasons:
Painting is less wasteful than resurfacing, which creates a lot of materials that have to go directly to the dump.
Painting typically involves less of a time commitment on your part as the homeowner. As a result, you'll have less disruption to your daily routine because all the cabinet parts remain in place.
On average, cabinet painting costs less than resurfacing. If you just want to change the color of your cabinets, painting is a wise investment.
Cabinet Painting FAQs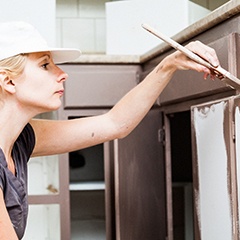 Our Plano team at Platinum Painting knows that your cabinets play a significant role in in creating the look you want in your kitchen or bathroom. These frequently visited spaces should reflect your style, but renovations can be particularly expensive here. With us, your "new" cabinets don't have to cost a fortune. We've been asked a lot of questions about cabinet painting, so we decided to answer some of the more common ones here. We hope our responses clearly show how we make improvement projects as stress free as possible. If you have other questions or if you are ready to get started with a free estimate, please give us a call!
Is there a difference between cabinet repainting and refinishing?
Yes! Simply put, when we repaint, we are applying a different color of paint to the cabinets. Compared to refinishing, repainting tends to be more affordable, more friendly for the environment, and quicker to complete. As you might imagine, these advantages make repainting a popular choice for homeowners. Refinishing entails re-staining the wood or altering the cabinets' style. If you want a different look entirely, refinishing may the way to go. Just keep in mind that it takes longer and will cost a bit more than repainting. Need help deciding which one you want? Our estimators can give you useful advice.
Do I need to clear coat over the paint to protect the cabinets?
We discourage applying a clear coat over painted cabinets. The chemicals can mix and react or make the cabinets look more yellow than you want, especially with time. That's why our team at Platinum Painting uses the best products in the industry, the proper techniques, and primers to give you beautiful, long-lasting results without common signs of age or degradation. If you need help choosing your paint color, we are more than happy to guide you the right option for you and your home.
How long does cabinet repainting take?
In general, repainting cabinets takes two to three days, but the size and number of the cabinets involved in the project can impact your timeline. Also, remember that refinishing or resurfacing the cabinets requires more time. After the project is complete, we recommend keeping the cabinets empty for a few days. During your free estimate, we can give you a more accurate timeframe for your project.
What prep do I need to do before you start?
When our crew comes to your house, we want to able to start working right away. That's why we ask that you remove all contents from the cabinets. If we are only painting the cabinets' exteriors and doors, you may leave objects inside if you wish; however, repainting can be messy, especially the sanding part. If you decide to leave objects inside, you may need to clean everything once we're done with the project. Instead, we strongly encourage you to store the contents elsewhere. In addition, please try to clean and declutter the work area so that we can work as efficiently as possible.