Brick Painting – Plano, TX
Boost Your Home's Curbside Appeal with Brick Painting
In a sea of brick homes, it makes sense that you'd want to impart a little personality and uniqueness on yours so it can stand out in the crowd. The perfect project to do just that is brick painting in Plano! With a fresh coat of paint on the outside of your home, you'll be able to not only protect the exterior from weathering, but also breathe new life into a house that you've lived in for years. Learn more about the process of brick painting and how to get your project started by reading below or contacting our office to schedule a free in-home estimate!
Why Choose Us:
Based in Plano
Insured
Satisfaction Guarantee
Serving All of North Texas
The Benefits of Painting Brick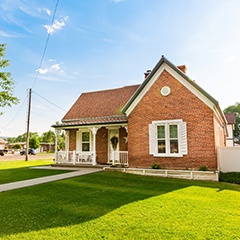 When you paint the exterior of your brick home, you'll be able to enjoy a wide array of benefits, including:
Driving up to a home that feels brand-new after work.
Protect outside building materials on your home to ensure they last longer.
Truly transformative results that are well worth the cost.
Not only can exterior painting take a home that has been around for decades and give it an updated, modern or creative new appearance, but our team at Platinum Painting of Plano will help you choose the best paint type and brand to last for years, so you can get the most out of your investment. Also, since the coat of paint will act as a shield between the brick on your home and rain, UV rays, frost, and other natural weathering elements, it will serve as a way to preserve the exterior of your home.
The Process of Having Your Brick Home Painted
If you've never painted the exterior of your home before, there's no need to worry when you hire our professional team at Platinum Painting of Plano. We're incredibly thorough, knowledgeable, and we make sure that no corner is cut throughout the process. That way, you'll be able to relax and enjoy the finished results, no work necessary on your part. We also offer a satisfaction guarantee once the project is complete to make sure that you love the results. Here's what to expect throughout the entire exterior brick painting journey:
To learn more about brick painting in Plano, don't hesitate to reach out to our friendly and knowledgeable team.