March 9, 2022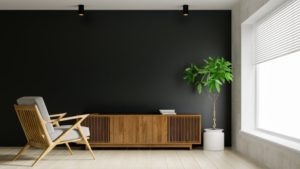 Have you ever secretly wished you could paint the walls black? Even if you don't have an obsession with this moody, dark color, the idea of covering your walls with it can seem rebellious or against the norm. Well, the truth is that you can paint with black and still have a put-together, stylish room!
However, you have to be careful with this color and think several things out before you open the first paint can. Here are some of the things you need to consider prior to painting with black.
Accent Wall
Perhaps you don't want black everywhere, or you don't feel brave enough to go black on all the walls. You can choose to create one accent wall that makes a bold statement. This draws attention to the wall without committing to altering the entire room.
Lighting
Before you paint the walls any dark color, especially black, you need to recognize the lighting in the room. Dark colors absorb light, and if the space doesn't have enough natural lighting, black walls can make you feel as if you're in a cave. On the other hand, rooms with plenty of exterior or interior lighting and black walls can have a chic, warm atmosphere.
Contrasting Colors
With the absence of color, black makes basically every colorful detail stand out. As a result, you need to choose a contrasting color or two that will pop against the paint. For instance, the trim or crown molding could be a white or an off-white neutral to bring out the character of the room.
In addition to light-colored trim, black walls usually need light-colored décor to achieve balance in the space. Picture frames, furniture, and other pieces should contrast with the dark paint, creating a powerful, dramatic, and eye-catching feature. Sometimes the contrasting color can even be a wood tone!
Room Size
Overall, it usually isn't a good idea to paint a small room black because it can give the illusion of even less space. A little bedroom, for example, may not be the best choice to have all the walls painted this color. However, there are exceptions. In rooms that are obviously meant to be small—such as a half bathroom—black can raise the room to the next level and make it look extra classy.
In the end, the decision to paint your walls black may seem like a big one, but in many cases you can make it work! You can show your individual tastes and still have a beautiful, sophisticated room. If you consider these concepts, then you can utilize black paint to your advantage and provide a stunning space for you to enjoy spending time!
About Platinum Painting of Plano
Since 2008, Platinum Painting of Plano has served homeowners throughout the DFW area. We've painted well over 10,000 homes and are experts at residential interior and exterior painting. To ensure that you'll be completely satisfied with your color choice, you can take advantage of a third-party color consultant, if you would like. Want to schedule your free in-person estimate? Contact our Customer Care team to set up the appointment!
Comments Off

on 4 Things to Consider Before Painting with Black
No Comments
No comments yet.
RSS feed for comments on this post.
Sorry, the comment form is closed at this time.